Cardboard Box Flexographic Printing & Making Machine
BrandPinlong
ModelPL-GP
Place of OriginalChina
Size (mm)900 x 2000, 1200 x 2400, 1600 x 2800
Printing forCarton Box, Corrugated Box, Cardboard Box
Color Printing1 / 2 / 3 / 4 / 5 / 6 / 7 Color
PaymentT / T, L / C, D / P
Price TermsFOB, EXW, CIF
Delivery TimeWithin 60-120 days after receive the deposit
PARAMETER
Description Model
PL-GP0920
PL-GP1224
PL-GP1628
Max. Speed(pcs/min)
300
250
200
Max. Paper Board(mm)
900*2010
1200*2410
1600*2810
Min. Paper Board(mm)
300*600
350*600
500*760
Max. Skipping Paper Board(mm)
1200*2010
1500*2410
2000*2810
Min. Slotting Size(mm)
Positive Knives(mm)
130*130*130*130
130*130*130*130
130*130*130*130
Inverse Knives(mm)
230*65*230*65
230*65*230*65
230*65*230*65
Max. Printing Size(mm)
900*2000
1200*2400
1600*2800
Max.Slot Depth(mm)
250 Knives Can be added
to enlarge slotting depth
300 Knives Can be added
to enlarge slotting depth
400 Knives Can be added
to enlarge slotting depth
Printing Plate Thickness(mm)
3.9
3.9
3.9
Printing Registration(mm)
±0.3
±0.3
±0.3
Die Cutter Precise(mm)
±1.0
±1.0
±1.0
Slotting Precise(mm)
±1.0
±1.0
±1.0
Thickness of Boards(mm)
2-12
2-12
2-12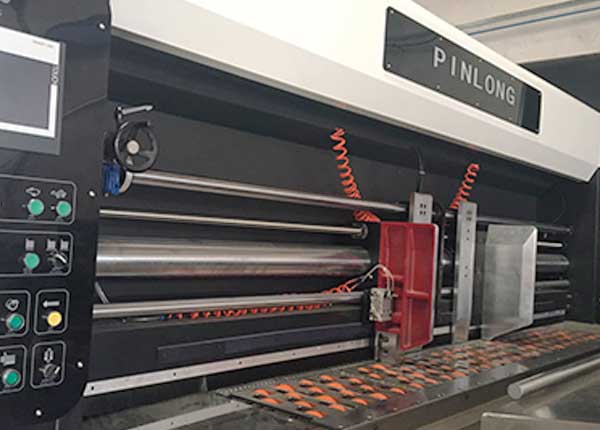 Lead Edge Feeder
The lead edge feeder of the cardboard making machine can be adjusted according to different board sizes.
On volume frequency control, adapt to variable even bent boards.
The lead edge feeder of the cardboard making machine can provide nue & skip feeding.
E rubber roller feeding with double plastic cover, eccentric pressure regulator, make sure less damage of boards.
A row of dust brushes and dust suction blower, centralized dust collection.
Nal: Whole vacuum transfer system for feeding unit of the cardboard box making machine without feeding and pulling rollers, and independent dust clean device.
The cardboard making machine with original imported Taiwan gears, and servo motor feeder is optional.
Printing Unit
Vacuum transfer, staggered vacuum transfer wheels, and structure that ensures boards transfer smoothly. The printing unit of the flexographic printing machine has Multi-sections vacuum volume control, and automatic adjusting according to different boards size.
Atic locking & position location, for printing plate.
Se integral anilox roller & rubber roller/chamber blade system rise and fall structure ensures perfect ink transfer and avoids shaking when the flexographic printing machine working.
Traction with servo motor, lateral ball screw rod adjusting.
R roller & anilox roller fast-changing design. Chamber doctor blades and rubber roller are available, optional.
X roller automatic self-wash device, much more convenient for circulation washing.
Atic back to "zero" after washing printing studio.
E diaphragm pump, and automatically ink recycling system, can reduce ink waste, and make ink recycling faster. The printing unit of the flexographic printing machine can be equipped with a hot air / IR dryer system.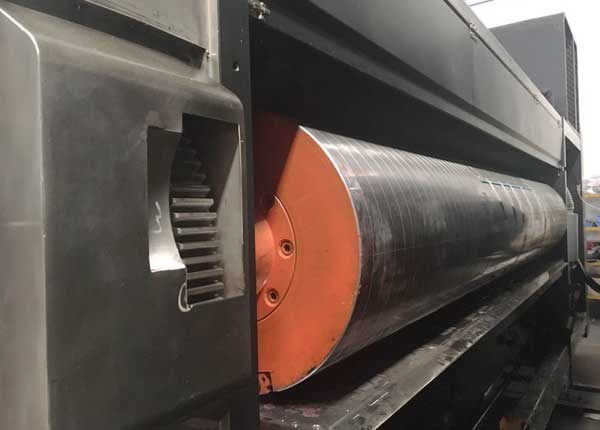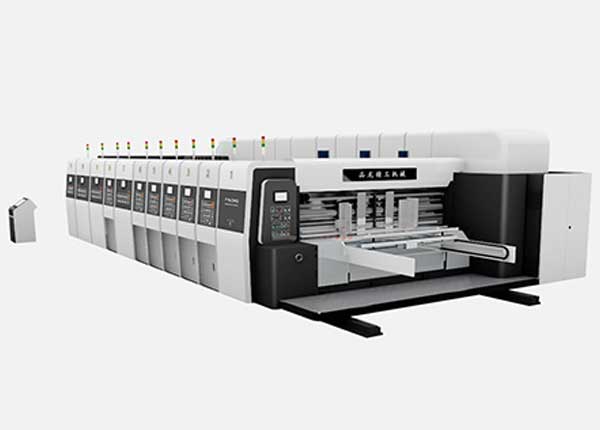 Dryer Unit
Vacuum transfer with roller conveyors, roller rows of dislocation, feeding corrugated board stability.
The bellows damper can be adjusted according to the cardboard small, medium, large size, or automatic adjusting.
There are three kinds of drying systems that can be selected according to the configuration, they are hot air / infrared IR / ultraviolet UV drying system.
The drying system of the cardboard box making machine used the imported PLC program automatic control, human-machine interactive control, and display.
Automatic temperature control system, fault alarm protection, automatic fault detection, and alarm status display.
Drying system with dual host protection control starts and closed, completely solve printing products due to direct exposure to UV light to heat a long time down the burning and damaged print.
Rotary Die Cutter Unit
Rotary die cutting pressure adjustment eccentric structure, gravity die holder downward to reduce die block.
Anvil covered cylinder mechanical sliding device, with the main machine speed adaptive traversing speed.
Anvil covered cylinder independent drive motor, can compensate for the length of the carton.
The rotatable die independent servo drives of the cardboard box making machine are optional, anvil cover trimming devices.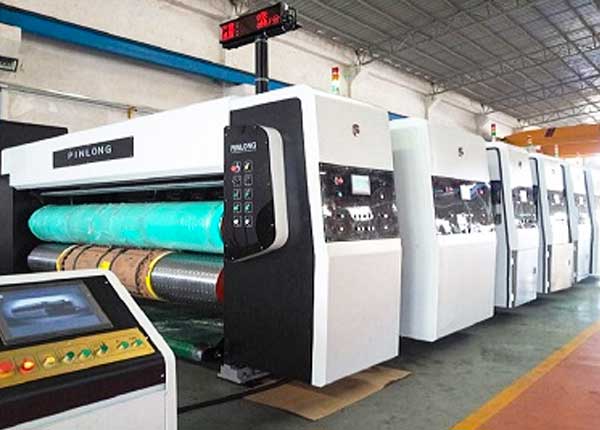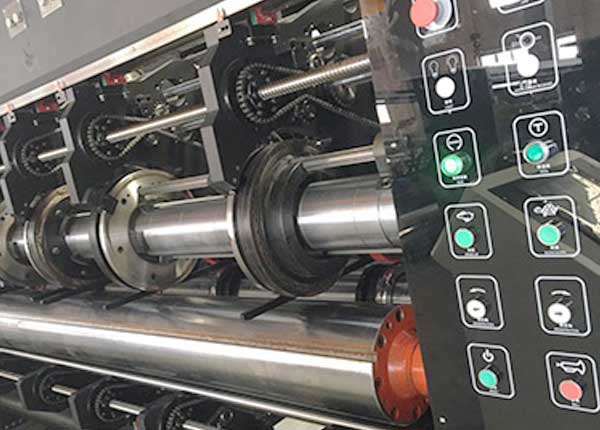 Slotter Unit
Eight axis design, pre-creaser, second crease, slotter.
Large diameter pre-creaser axis, tight and strong.
Double screw lateral moving adjusting, precise position, moving smoothly.
Knives lateral adjusting with servo motor, fast and precise position.
The slotter unit of the flexographic printing machine adopts graphite and copper block linking connection, durable and convenient changing.
Spring type flap cutting design for 3ply, 5ply.
The aluminum alloy punching device of the flexographic printing machine's slotter unit is optional.
Pre-creaser、first creaser、second creaser、slotter.